Welcome to the Circus Kaput Camp Shows page!
Here you will find information about our most popular show offerings for summer camp programs.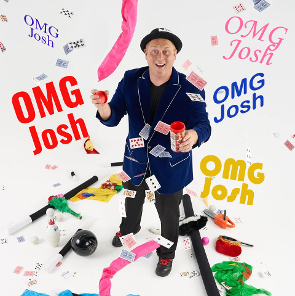 THE OH MY GOSH JOSH SHOW
Performer:
Oh My Gosh Josh
Description:

Sit back and get ready for a wild ride because you're about to see the Oh My Gosh Josh Comedy Magic & Juggling Show! Part circus, part mystifying magic, and all the way silly, this show is going to be one you remember forever.
Oh My Gosh Josh is a bumbling performer who sometimes doesn't even realize what he's doing. The audience loves to point out when he has missed something, and that's just the beginning of the audience participation in this show. Because Josh is going to pick members of the audience to come up and help with a trick! Your campers will not soon forget their experience with Oh My Gosh Josh.
Length:

30 minutes, 45 minutes or 60 minutes


THE CIRCUS KAPUT SIGNATURE COMEDY, MAGIC AND JUGGLING SHOW
FOR UP TO 75 KIDS ONLY
Performer:
Varies - Could be Mister Dan, Maestro, Ozum, Jesster or Callico!
Description:

No matter which of our great performers arrives,
Circus Kaput's comedy magic and juggling shows are fun for the whole family!
Our entertainers will delight your audience with funny quips, tricks and skills that will have everyone in stitches.
Audience participation is always a part of our presentation, several people from your group will get to come up on stage and help with tricks and stunts!
Length: 30 minutes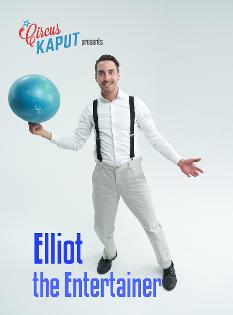 ELLIOT THE ENTERTAINER EXPERIENCE
Performer:
Elliot the Entertainer
Description:
Your audience will be thrilled by Elliot the Entertainer! His show includes juggling "razor sharp" knives while riding a unicycle, mind blowing magic, comedy, goofy gags & high level juggling.
Elliot is an incredible ball of energy who knows how to put the audience on the edge of their seat.
Of course, his show also features tons of opportunities for kids to join him in the fun!
Length: 30 minutes or 45 minutes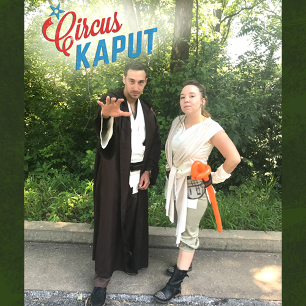 JEDI KNIGHT DEMO AND TRAINING – Star Wars theme
(2 Costumed Performers)
Performer:
2 Performers in Themed Costume
Theme:

Just For Fun/Space Adventure
Description:
Jedi Knight Demonstration and Training is interactive! Two performers show battle moves and intergalactic exercises. Includes up to 50 balloon "light sabers" (balloon swords). Interactive games and exercises.
The performers need a minimum of 15 feet of space. The audience should have room to see and follow along with the games and exercises.
Length:
30 min or
45 min
This web site is maintained by Circus Kaput to provide information about Circus Kaput(CK) booking services and to provide links to sites of independent CK subsidiaries that provide variety entertainment services in the USA.
Circus Kaput is based in St. Louis, Missouri
SITEMAP