"Anything that's human is mentionable, and anything that is mentionable can be more manageable. When we can talk about our feelings, they become less overwhelming, less upsetting, and less scary."
- Fred Rogers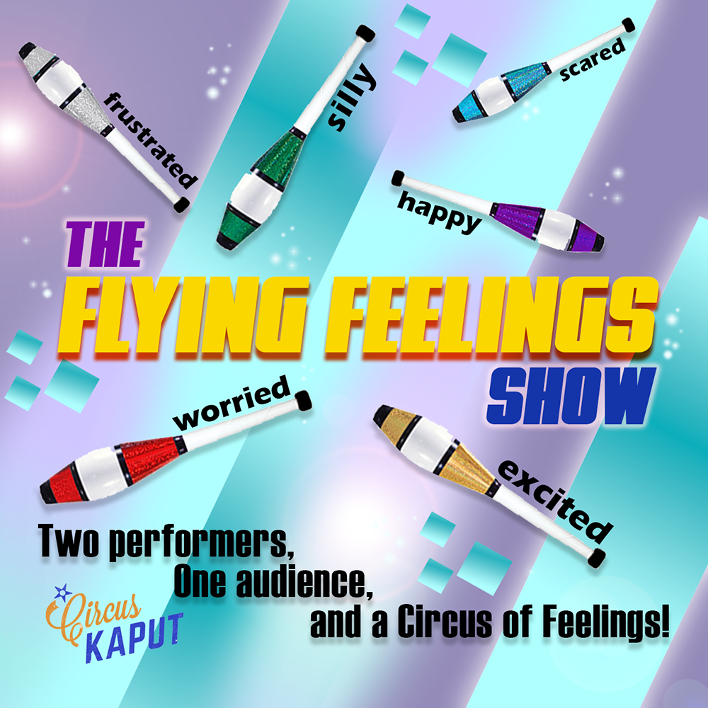 Circus Kaput Presents a brand new mental health school assembly:
THE FLYING FEELINGS SHOW!
The Flying Feelings Show
The Flying Feelings Show is a comedy, magic and juggling show for kids ages 5-12, and it's all about identifying feelings! This curriculum enhancement program is designed to support your organization's existing social and emotional learning plan.
A pair of highly skilled jugglers arrives to do a show and they realize, they've got a lot of feelings flying around! They learn that the best thing they can do is identify what their feelings are, but they can't do it alone. Your audience helps them name it, tame it and claim it. Together we find out that sharing our feelings with someone else can make life a lot easier and even more fun.
You already know that mentally healthy students are more likely to be ready to learn, actively engaged in school activities, and have positive connections with those around them - this Circus Kaput show sets the tone for that to happen.
Our goal is to make it rewarding to identify and share feelings. Our show portrays the use of appropriate problem-solving skills, nonaggressive behaviors, and ways that students can add to positive school culture.
The best mental health programs start with every student participating – and we make that fun!
This web site is maintained by Circus Kaput to provide information about Circus Kaput(CK) booking services and to provide links to sites of independent CK subsidiaries that provide variety entertainment services in the USA.
Circus Kaput is based in St. Louis, Missouri
SITEMAP