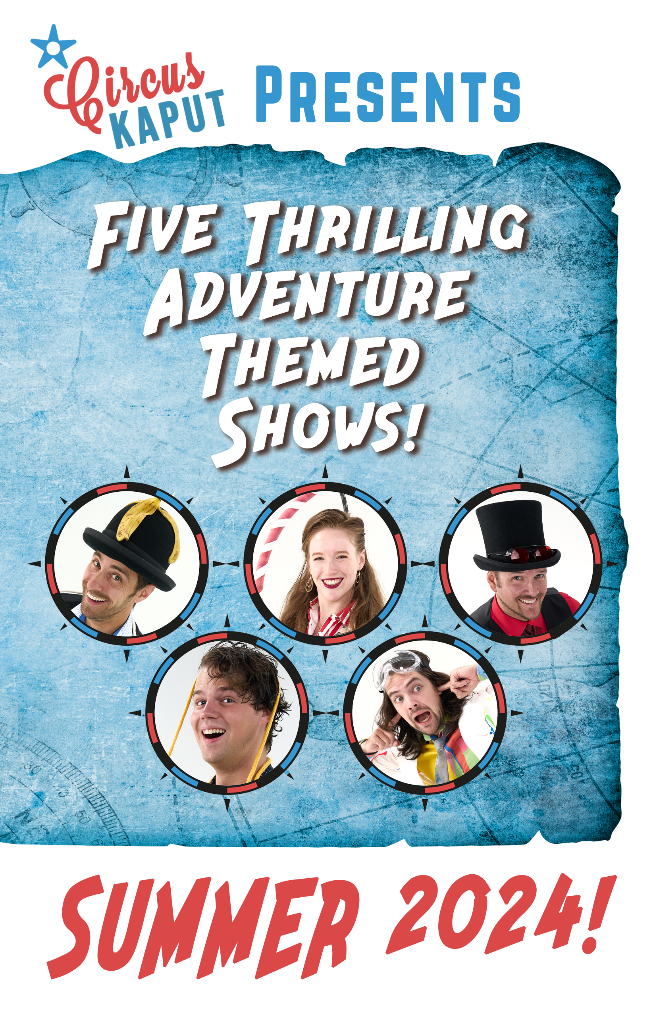 Elliot The Entertainer Forgot His Props!!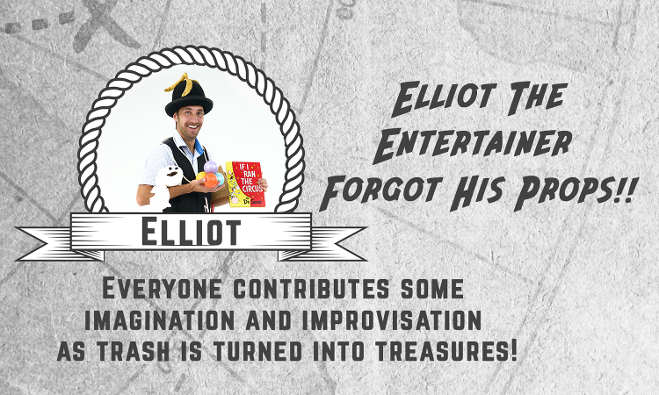 Elliot the Entertainer has arrived at your library without any props!
After realizing he left his case at home, he grabbed a cardboard box and started finding replacement items.
Juggling, magic and unicycling will all take place with found objects – showing that we can recycle anything into a second life of use rather than throwing it away.
Elliot creates a whole show with castoffs such as a plunger, a box of Kleenex and home made juggling balls, and your audience is part of the adventure!
Maestro's Magical Time Machine Misadventure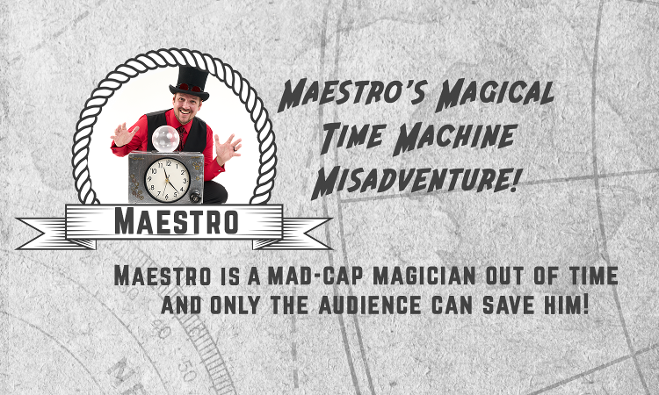 As Maestro steps out of the time machine and into your library, he's in for a great shock. Why are people looking at strange light boxes? And so many children not shining shoes or selling newspapers!
Maestro's time is 1924 and libraries are quiet places with books! Kids will be asked to recommend books to help get Maestro up to speed on the last 100 years.
They will help him perform some magic and show him the modern dances (and he'll show the Charleston!) Join Maestro as he dances through time, weaving magic, comedy and misadventure together.
Dizzy the Hooper is Lost Again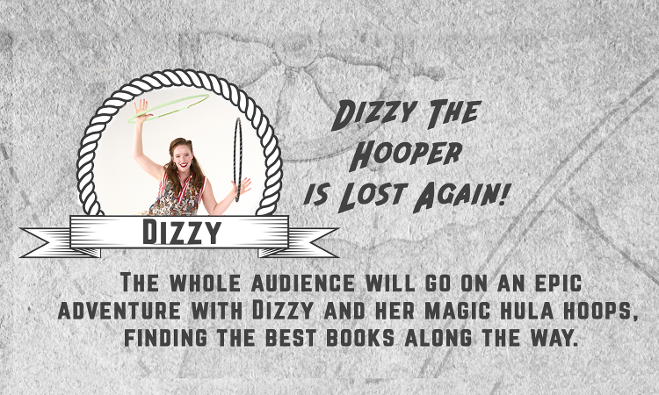 Uh-oh, Dizzy is lost in the stacks again! You might have helped Dizzy get home from the library last time.
Well this time she's gotten dizzy hula hooping and she's lost in your library!
She's going to need some help learning the different sections of the library and if you've been here before, you're just the helper she's looking for.
The whole audience will go on an epic adventure with Dizzy and her magic hula hoops, finding the best books along the way. Dizzy can sure hoop like crazy, but can she find her way back out? Together we find out that she's made so many friends and found so much to read, that's she's not ready to leave after all.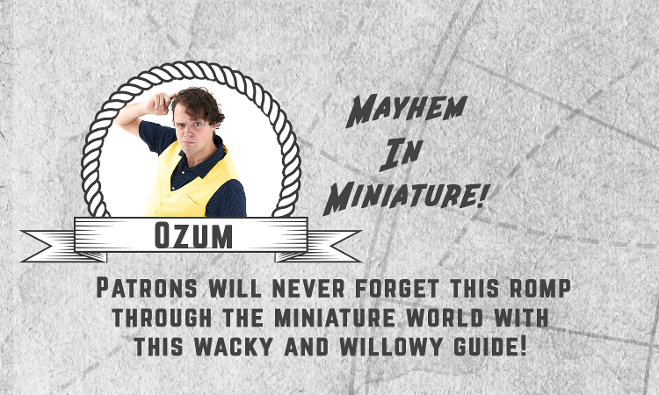 Shrink down with Oz, the world's tallest magician, and travel on a tiny adventure! Shrunk down by a laser ray in a lab, Oz needs your help to get zapped back to size!
In the micro world of the floor, you'll meet Carlos the Cockroach, see Oz pull a dust bunny from his hat, and cheer him on as he juggles grains of gravel from rug. It's hard to visualize this tall trickster being the size of a thimble, but your audience has the power to do just that.
Everyone contributes some imagination and improvisation until Oz has his height restored so he can do his biggest trick of all!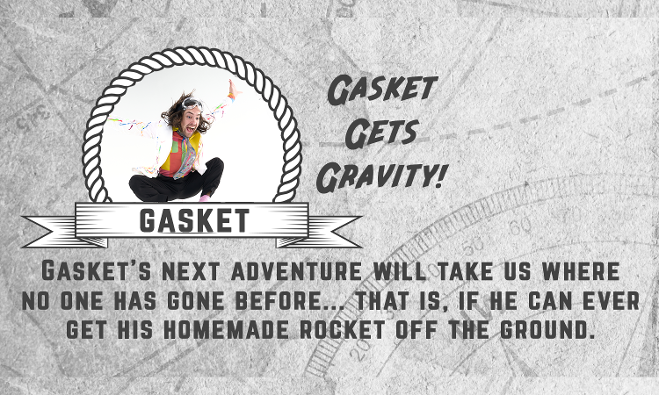 In a blast of science and chaos, Gasket's next adventure will take us where no one has gone before... that is, if he can ever get his homemade rocket off the ground.
You'll help Gasket use books from the library to learn about gravity, the scientific process, and recycling. Watch as he planet-hops on his rolling globe and juggles in orbit!
To fix his rocket, he will need you the audience and his trusty robot R2Detour to help put the pieces together.
Take part in the drumroll finale to cheer on the rocket launch!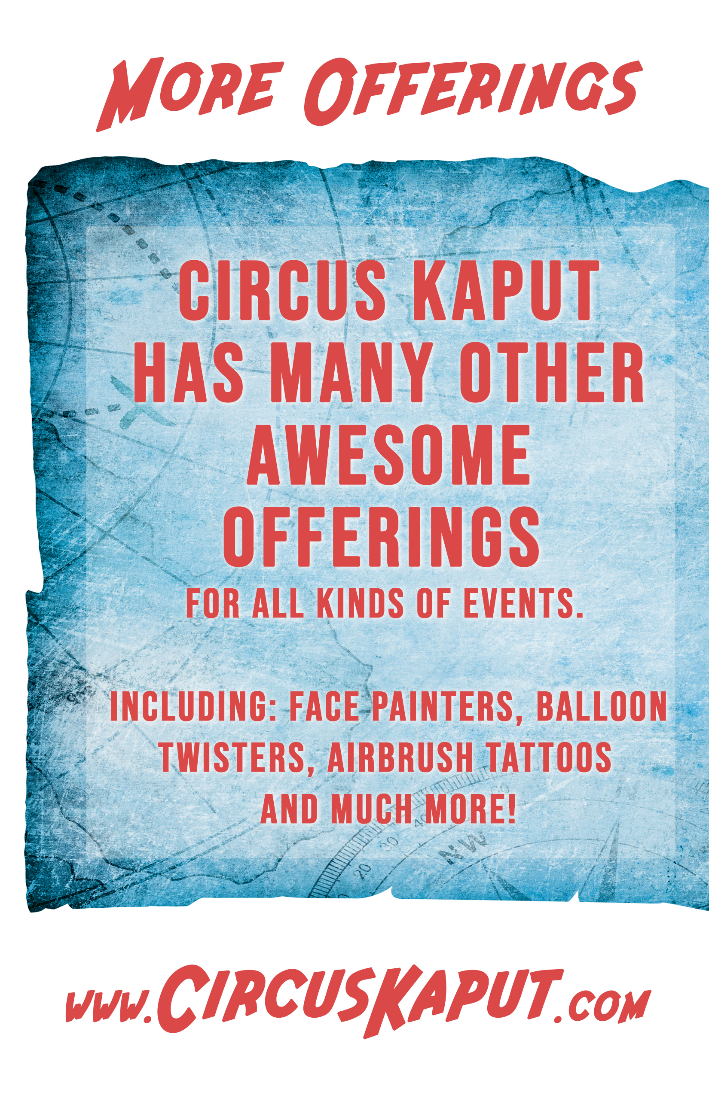 This web site is maintained by Circus Kaput to provide information about Circus Kaput(CK) booking services and to provide links to sites of independent CK subsidiaries that provide variety entertainment services in the USA.
Circus Kaput is based in St. Louis, Missouri
SITEMAP