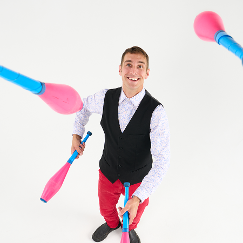 Discover your part in the show!
That Time I Joined the Circus...
Elliot the Entertainer wants you to run away with the circus!
Using all of his amazing skills and with your help he will tell the tale of how he found his place in the circus!
Audience members will play the part of the many characters he met and friends he made along the way.
It's an epic spectacle with incredible juggling, unicycling, plate spinning, acrobatics, magic and so much more!
Maestro's Magical Mystery
There is something amiss at the mansion on the hill! Come along with Maestro the Magician and discover what it is!
This comedy and mystery show is all about the time that Maestro was on his way to a show and got lost in a storm.
He found himself an escape from the rain in an old abandoned mansion. Inside he found a multitude of mayhem and a mischievous ghost!
Help Maestro solve the mystery, get back on his journey and make it to his show on time!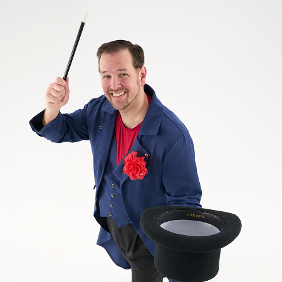 The clock is ticking and the game is afoot!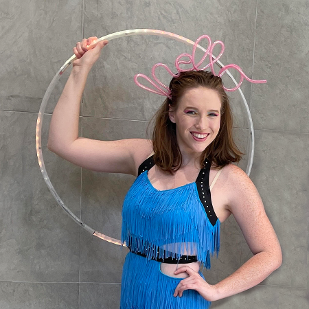 Have a hooptastic fun time with Dizzy the hooper!
Dizzy is an expert hula hooper and good at making up silly songs. The problem is she has been hula hooping and singing for so long, she doesn't remember which way is home!
With ideas from the audience, Dizzy will make up a song to help her retrace her steps. Together we will build a rhythm using recycled instruments played by the audience.
Kindness and respect will play a big part in getting Dizzy back on her way, and she will be so happy she'll end with a hooping finale your audience will never forget.
Hop in the boat and explore the swamp with Ozum and Bubba the alligator. You get a front row seat to the wild goings on in Bubba's Bayou - named because Bubba found it first!
The marsh is full of critters large and small, diverse plant life, and giant cypress trees.
Ozum can talk to all of them, and you help guide the tour which is full of comedy, slapstick and pratfalls.
Audience volunteers will get to help name new species, steer the boat, and a few will get to don a costume.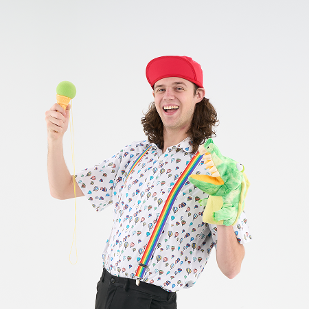 Patrons will never forget this romp through the wetlands with a wacky willowy guide and his gator!
2023 PRICING
Standard Show Rates
1 or 2 Shows $325 each show

Block Booking (3 or more shows booked on one contract)
3-5 Shows $300 each show
6 or more shows $275 each show
A $50 per show surcharge may be applied for shows taking place outdoors. This is added to the base rate.
ADDITIONAL INFO:
Prices do not include travel.
An additional travel fee may apply for areas that are a greater driving distance than 30 minutes from the center of St. Louis County (Intersection of Highway 64/40 and Highway 270).
Overnight fee of $100 a night will apply to cover lodging
Our service area is Missouri and Southern/Central Illinois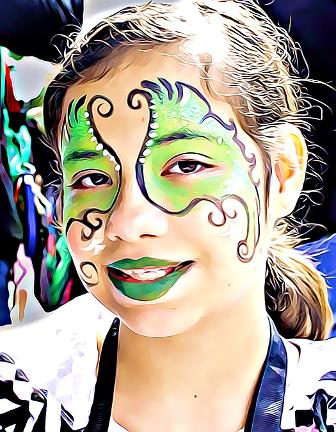 ADDITIONAL
OFFERINGS
2 hour minimum. Prices are per performer.
-Basic Balloon Twister - $95 per hour, 20-30 balloons per hour.
-Face Painters - $95 per hour, 15-20 faces per hour.
-Glitter Tattoos $125 per hour, 15-20
designs per hour. They last up to 5 days.
-Henna Tattoos $125 per hour, 12-15 designs per hour. They last up to 5 days.
-Caricaturists / Pen & Ink Artists - $125 per hour, 12-15 drawings per hour.
-Typewriter Poets -
Custom poems on demand
$125 per hour, 12-15 poems per hour
-Airbrush Tattoos - Colorful Fun Tattoos - Images airbrushed like unicorns, dragons, emojis etc - $125 per hour - 25-30 per hour
- Must have electricity. Lasts 5-7 Days
This web site is maintained by Circus Kaput to provide information about Circus Kaput(CK) booking services and to provide links to sites of independent CK subsidiaries that provide variety entertainment services in the USA.
Circus Kaput is based in St. Louis, Missouri
SITEMAP