Welcome to the Circus Kaput Early Childhood Fun Services page!
Here you will find information about our most popular offerings for Early Childhood Centers.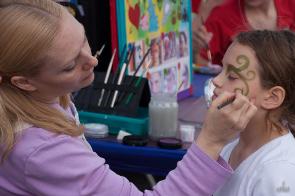 FACE PAINTING
Face Painting is an activity that can be enjoyed by everyone, especially young and imaginative kids. If a child doesn't want their face painted, we are happy to paint an arm or hand.
Our face painters use professional, high quality, non-toxic paints that come off with soap and water.
When children are walking around with colorful, painted, smiling faces, everyone can see their proud and joyful expressions. It gives an atmosphere of fun and delight that is outside of everyday life.
"Your talented face painters were AMAZING and they proved to be very popular."-Luann Locke, Owner of Afterwords Books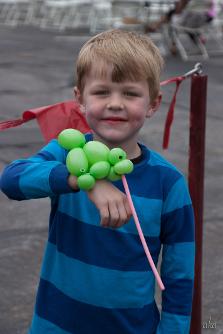 BALLOON TWISTING
Our balloon artists are friendly and funny! It is not just fun to get a balloon; it is terrific entertainment to watch these fabulous performers make creations your children will proudly display.
Kids are fascinated to watch them create even our quickest balloons! Balloon sculptures add color and excitement to any celebration.
Play is the ultimate learning tool for early childhood development.

The children at your center will get something to play with at the event and take home afterwards.
It's fun to watch the balloon artist twisting the balloons into animals, flowers, hats, and toys. Balloon twisting instantly makes your Early Childhood Center a place they will never forget.
This web site is maintained by Circus Kaput to provide information about Circus Kaput(CK) booking services and to provide links to sites of independent CK subsidiaries that provide variety entertainment services in the USA.
Circus Kaput is based in St. Louis, Missouri
SITEMAP